Whether your call centre has 5 users or 500, keeping track of every call that comes in can be a daily challenge. However, offering the best in Call Centre Service requires knowing when customers are calling, how long they have to spend waiting and how well your team members meet their needs. The IP Telecom Stats Centre lets you keep track of these useful metrics and more, while also showing detailed performance data on each of your call centre agents.

Here are 5 ways to keep your call centre running smoothly using Stats Centre's many useful features.
1) Reduce Wait Times
Long wait times are one of the biggest factors leading to abandoned calls and poor call centre experiences. With Stats Centre, see exactly how long each caller spends waiting so you can take measures to answer calls faster and keep things moving along with happier customers.
2) Stay Productive
Stats Centre offers a comprehensive look at your call centre agents' schedule and behaviours such as break times, total time worked, total time on calls, average answer rates and more. Use these stats to optimise your work schedule and make sure everyone's using their time effectively.
3) Answer More Calls
Once you've used Stats Centre to make sure you're using your customer's and agent's time well, use Stats Centre's powerful analytics to see your caller's habits and make sure you're doing everything you can to accommodate them.
Stats Centre shows you exactly when calls come in throughout the day, letting you identify busy and slow periods and plan accordingly so that when your customers have questions, you have someone ready to answer them.
4) Improve The Experience
When you do miss calls or lose callers, Stats centre offers specific call-by-call details such as who answered, at what time, and how long they spoke so you can tell exactly what went wrong.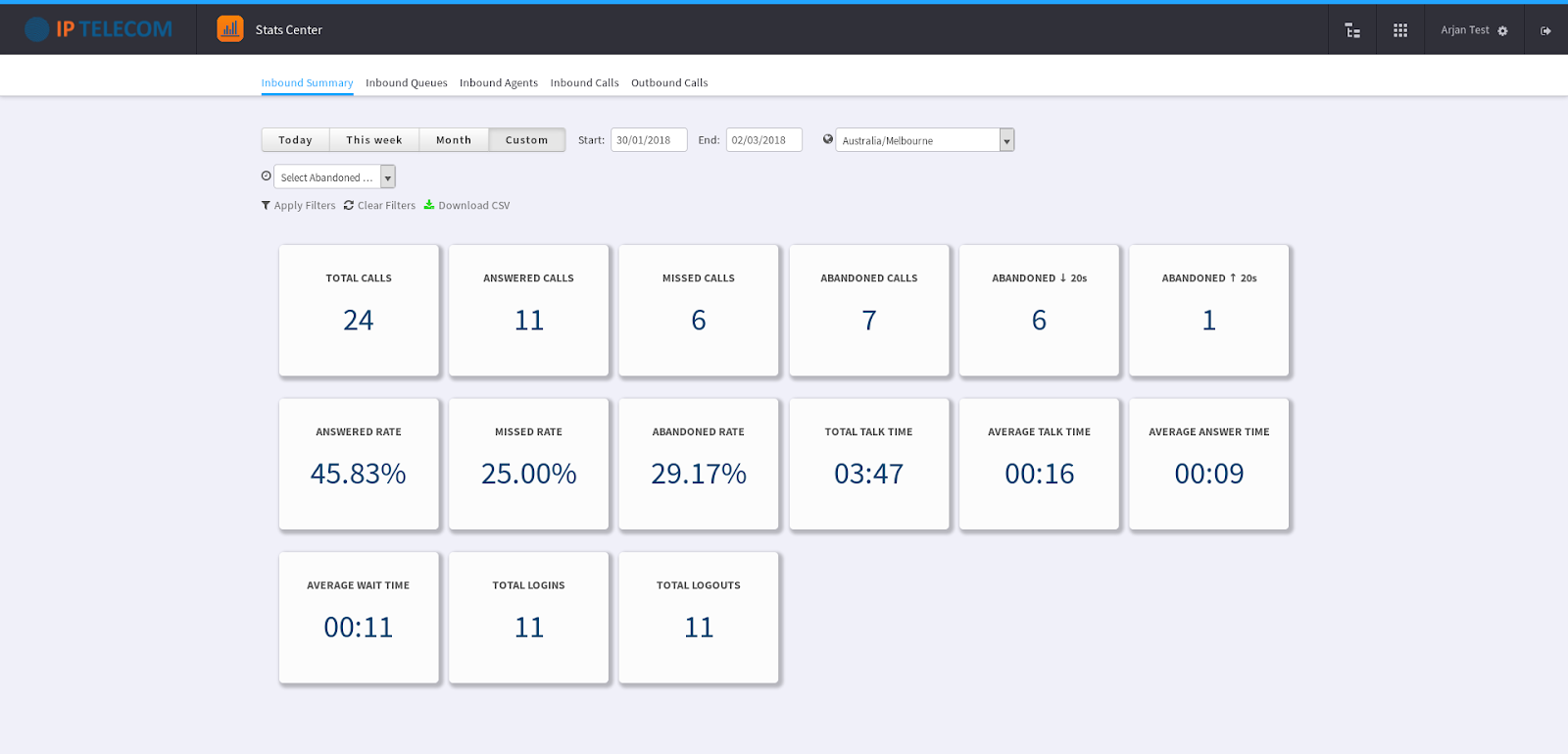 Sneak look at the new UI
5) Convert More Callers
In addition to improving your caller's experiences and your team member's efficiency, Stats Centre from IP Telecom lets you track vital data on sales and conversions. See your total Offers Count, along with Offers Rejected and Offers Missed and Offers Answered, with all of the other metrics mentioned above to build an effective sales or conversion strategy that plays to your team's strengths and takes callers needs into account.
All of these useful features will be available free of charge to IP Telecom's Call Centre users starting on February 1st, 2019.
Communicate Better with a Call Centre Solution from IP Telecom