IP Telecom's unique integration,

IPT for Teams

, allows companies to communicate better by unifying all the features of Microsoft Teams with their IP Telecom Phone system.
Curious about how it works? Hear from our CTO, Brian Chamberlain
Microsoft Teams is a corporate communications tool that enterprises and corporations use for internal messaging, conferencing, desktop sharing and voice calling, usually within the organisation. These features were previously included in Skype for Business. With the IPT for Teams integration, calls to your business will seamlessly arrive at whatever Teams or Hosted PBX device the user is currently logged into.
Which problems does it address or solve?
In our experience, most companies that are running Teams are also running a traditional phone system or VoIP / Cloud PBX in tandem. What we've developed is a game changer - it allows a company that's running Teams to use the IP Telecom Hosted PBX to route internal and external calls to their clients.
The company can also use traditional SIP endpoints. Let's say Alice is extension 100 and Alice has IPT for Teams on her desktop and mobile, along with a traditional SIP device. If Bob calls Alice at extension 100 Alice's devices will ring, if logged in, as well as her desk phone. Our integration work unifies the company's phone system with their Office 365. Unlike other solutions in the marketplace, there is no very expensive SBCs (session border controllers) required. This is all done in the IP Telecom cloud. This is the only product of its type available in Ireland now.
Why have you decided to do this?
The product development has been driven by customer demand. We have seen a gap where companies are using Teams and also doubling up with another system to look after their communications. We saw this, and our solution addresses this problem by allowing customers to unify Teams with their phone system to give rich unified communication experience all managed from within the IP Telecom IPT for Teams interface.
So, if there is one, what is the trend in communications?
The trend right now in communications is to go to the cloud. And our unique offering enables companies, which are using Teams or Skype for Business, or thinking about deploying them, to have a true cloud-based state of the art unified communication solution. It's just so simple and elegant. Their phone system is linked directly to Teams and vice versa, all managed in one place.
Who is your competition?
We have actually been providing Skype for Business and Teams PSTN connectivity going right back to when companies were deploying LYNC on premises. We understand the strengths and weaknesses of the Microsoft communications suite, and from the experience, we have in this area, there is no company in a better position than us to provide connectivity for Teams in Ireland. We were one of the first Telecoms providers in Ireland to provide PSTN connectivity for the Office 365 Hosted edition of Skype For Business.
Who can use this product?
Any company currently using Office 365 with Teams/Skype for Business or any company which is currently thinking about deploying it. If you give our sales team a call, then we can discuss how best to implement it for your organisation.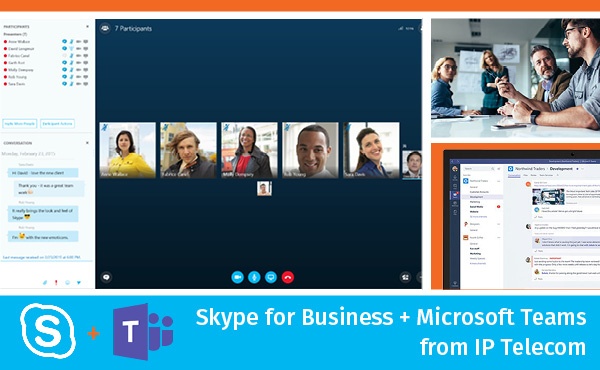 How does the product work?
The product is very clever technically. When a call arrives for a user that has a Teams device, as well as calling any SIP device they have, we also send the call into the IP Telecom cloud, where we craft a very special invite packet that is passed into Office 365 and routed to the IPT for Teams user. From the user's perspective, it's completely seamless, the call just arrives to whatever Teams client they are logged into plus any other SIP device that is registered to their IP Telecom Hosted PBX. This works for direct calls, ring groups, call centre agents, forwarded calls, and diverted calls. Any type of call that can be delivered to a traditional phone/VOIP endpoint is sent to the IPT for Teams user. The Teams user can also dial out, and we deliver these calls to the destination VIA the IP Telecom network. We're very proud of this solution. And the feedback from the customers, who we've already rolled this out to, has been amazing.
What is the value of this offering and why would someone buy from you as opposed to a competitor?
As I've previously alluded to, we have been working with the Microsoft voice communications stack for a long time - so we have a lot of experience in this area. The solution is custom built for Skype for Business and Teams and it's unique in Ireland.
What are the top pains solved or gains delivered?
The major pain we're solving is eliminating multiple different walled silos and using Teams / Skype for Business as a core part of a company's Cloud Phone system. This is a unique approach. It eliminates multiple clients on a PC or Mac. The end user receives and makes Teams / S4B calls and normal voice calls in the same client. If a company is using Teams or Skype for Business already and needs a new phone system, we put in a new Cloud PBX and the customer is able to use their new system with their existing Teams Client. This is a game changer allowing IP Telecom customers to really communicate better than their competition.
How will the product be used?
We have customers running their support queues - calls go into a queue and are sent to the agents in a rotation. When the call arrives at the agent, it's delivered to their MS Teams client. The customers are able to get full call centre statistics, wallboards, all the features a high-end call centre demands, and the calls are ultimately being answered on the agent's Teams clients.
Other customers are doing outbound call campaigns using their Teams clients and Microsoft Dynamics CRMS. They click to dial in Dynamics and the call begins in their Teams client.
Other customers are using Teams internationally across multiple countries, and they use the IP Telecom Hosted PBX to manage call routing, IVRs, Time of Day based routing and all the other features of a high-end phone system to route calls to their Teams users.
Sound like the right choice for your company? See if you qualify, and enjoy your first month free!