Your traditional phone system has served you well. It's a permanent fixture in the comms room of your office building—a relic of your early days as a business. Perhaps a daily reminder of your first significant investment in "modern" communications tech. If you've made it this far as a business - congrats; you're now in the digital age!
The modern business environment requires new-age tech to enable new processes and ways of working.
Many employees are reluctant to return to complete in-office work, and growth-led Business leaders seem to be nodding in agreement.
So, the odds are you are in the middle of devising a hybrid strategy, implementing a hybrid working strategy or identifying the need for a switch to hybrid work. And these changes to working patterns will require better communication for it to be a success.
The reality is that your legacy phone system can't meet the requirement of a hybrid workplace.
In most cases, you'll need a kit to add to your existing "telephone kit" while relying on other communications software to give yourself a chance of success at doing hybrid right.
Worst of all, you are reliant on a piece of software in a comms room that is susceptible to outages and unplanned downtime - one that needs regular hands-on upgrades, usually involving a hefty call-out fee.
Yes, change is challenging. And migration to a new communications system involves significant effort; staying with an out-of-date, costly and underperforming on-premises PBX is riskier.
Time to Make the Switch
Cloud communications is no longer a "nice-to-have for a techy business"; it is now a must-have for any business. Your modern customers want you to know who they are before your employee says "hello". Your employee needs all the modern tools to replicate their work environment when working from anywhere. And your business needs the data and insights to make business decisions to drive growth in a uber-competitive climate.
Cloud phone for 2023 and beyond
Cloud communication was known for hosted Voice Over Internet Protocol (VoIP). Then the internet got better - unlocking limitless possibilities for cloud-based comms solutions.
Out goes rigid two-way voice calling. In comes limitless calling options, video meetings, real-time business chat, and the possibility of unifying it on one platform.
No company, however big or small, no user, irrespective of where or how they work, wants to be left behind.
Your employees expect quality user experience from the apps they use daily. Likewise, your digitally-savvy customers want experiences tailored to their mode of communicating with your business - outdated PBX systems won't empower your employees in their quest to deliver a quality customer experience. Does your current phone system open the previous correspondence with the customer so that anyone can answer their query?
B2B or B2C, you are dealing with humans. And humans talk. Modern customers and employees will share info about the latest tech they use and the remarkable phone experience they get (or don't get).
If the tech doesn't motivate you to migrate, the inevitable shutdown of traditional lines should.
But there are other motivations for your migration - the five below being the most critical:
Get rid of disjointed, inefficient multi-vendor communications
Legacy communications are powered by disparate solutions to provide essential communication functions. A typical set-up would be a PBX for call control, another solution for Instant Messaging, directory and collaboration, a video conferencing solution - then a contact centre solution for businesses with high call volumes. That means siloed information across different platforms, multiple vendors to manage each solution, and numerous subscription costs to deliver the service.
If you find a vendor that can deploy these solutions, the challenge of unifying the comms stack remains. When your comms solutions are disjointed, you might as well say goodbye to productivity. And in a hybrid environment, running a business efficiently with disconnected tools that can serve dispersed teams is near impossible.
With cloud phone systems, you can eliminate the time and cost associated with deploying, integrating and managing multi-vendor technologies by consolidating all your PBXs in a unified platform.
With IP Telecom, you also get local, toll-free, and international calling as part of your package. So ultimately, you get all your communication services in one monthly bill.
Scale as you grow
Traditional communications platforms are too rigid to accommodate growth and changes - the pandemic is a testament to this. Suddenly, businesses had to facilitate remote work, and it was a non-starter with a PBX stuck in a comms room. As a result, most employees reverted to using their mobile for business calls - incurring charges while leaving the business susceptible to cyber threats.
It's not just events like the pandemic that catalyse organisational changes. Things like recruitment drives, international expansions, mergers and acquisitions are regular occurrences in the business environment.
Scaling services on cloud systems is easy because all you require is a public internet connection. You get a portal to manage your features and functions, add and remove new users, and set up call configurations without needing a dedicated IT specialist.
And because you have consolidated all your comms tech in one solution, you can scale other non-phone services too. For example, solutions like VoIP-based handsets, softphones, and contact centres can be added incrementally, per user or all at once.
Your choice!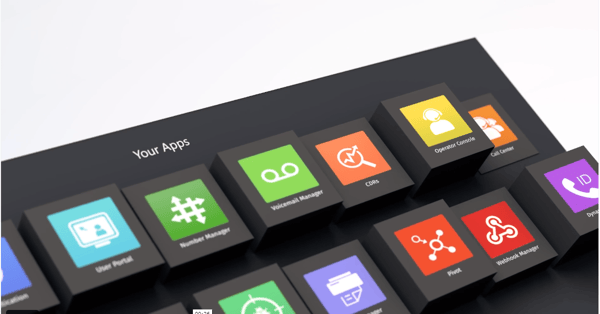 Your phone system, your way
Keep up with your competitors with the latest features and integrations
In a digital-first world, business challenges often fall into one of two categories:
Improving operational efficiency to drive growth
Attracting and retaining the best talent to keep your business competitive
Comms tech won't solve all these problems, but it will give you a good shot at keeping your business competitive in your industry. Cloud phone systems come with in-build gateways to seamlessly integrate your business applications.
Where old-style on-premise PBX fails in extending communications into business applications, cloud-based communications excel by integrating your business apps with your phone system.
When you empower your employees with tools like CRM integration with a cloud phone system, they can deliver a first-class experience to your customers (current and potential). Other features like video conferencing and instant messaging are popular integrations with cloud phone systems.
Additionally, out-of-box features like hot desking, find me/follow me, call whispering, barging and voicemail ensure a quality user experience, employee buy-in to new working models and first-class customer experience.
And like most modern software, all these features are kept up to date by your solutions provider, with upgrades sent to individual devices virtually.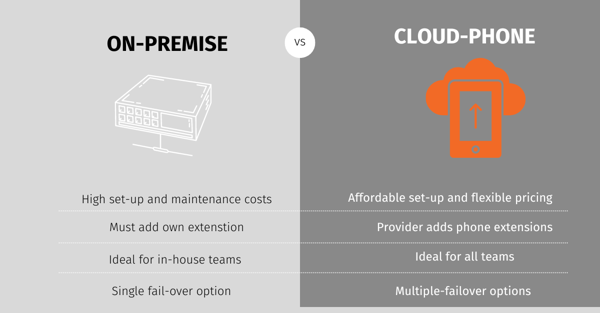 Key differences between on-premise and cloud-phone
Gain visibility and game-changing insight into your communications
When you invest in any technology, you want to gauge its effectiveness in business operations. With traditional PBX, this is near impossible. They offer little reporting, and when they do, you must go through multiple vendors to extract data. And whatever insights you gather are so slow and cumbersome to produce. The result is sparse data that adds no value to your decision-making.
In contrast, cloud communications use open technologies that get all your business apps to speak to each other. And when they do, you are empowered with real-time data and insights. With employees opting to work from anywhere, these data become critical to business survival as you can quickly identify areas that need improvement and growth opportunities.
Never have to worry about outages, interruptions and unforeseen events
As highlighted above, a traditional PBX system has several limitations—the most severe being a lack of adequate disaster recovery and business continuity functionality.
By their very nature, on-site legacy systems are not designed to provide continuous connectivity during outages from natural disasters or other events.
For instance, ageing PBX infrastructure can shut down anytime; major construction projects can affect PSTN lines. And the most common is power outages - which can render your phone system useless.
The cost of service disruption to your business can be severe. In addition, communication failures place your employees at risk and can cause lasting damage to your company's brand and reputation. We all know the one brand you stay clear of because of the reputation of their customer service call centre.
Cloud phone systems assure high quality, disaster recovery and business continuity and the clue to how it achieves this is in the name.
Unlike an-onsite PBX, cloud PBX is provided with no single point of failure. And any reputable cloud provider should assure you of a 99.999% uptime.
The reliability of a cloud phone system is built on the foundation of the technology that hosts them on redundant, multiple data centres. If one server fails, the connection is maintained on other servers in a different location within your provider's platform.
Also, cloud PBX factors a loss of internet, which might be a pressing concern when you want to migrate from a legacy phone system to one powered by VoIP. In that event, calls in a cloud-based system can automatically route to mobile phones as a last resort.
Future-proof your business communications
The truth is that your legacy phone systems will not get better with age. In today's competitive environment, to need the right tech to exceed the expectations of your employees and customers.
Cloud communications are cost-effective, low-risk, feature-rich, and easier to manage and use than your existing system.
Cloud communications are always on, no matter where you are or how you work.
It's time to leave your outdated tech where it belongs: in the past. And usher your business to the future by unlocking cloud communications' competitive and operational advantages.